*Due to the coronavirus pandemic, some of the services
listed here may not currently be available.


Wireless and mobile printing
Need to print? The library offers wireless and mobile printing from home AND onsite printing of pdfs and jpgs from a flash drive. There is a 10-cent paper charge per page. Stop by or call 518-439-9314 if you need help. Click here for more.
Public computers and internet access
Fiber optic Internet connection
20 public access computer stations
All equipped with Microsoft Office 2010 – Excel, PowerPoint and Word
Dataports and wireless access for your Internet-ready device
2 Chromebooks for onsite use and more for checking out
10 PC laptops for onsite use
Flatbed scanners available
Tech Room Makerspace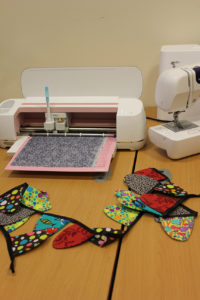 Our Tech Room Makerspace features a variety of creative tools such as a Cricut, 3D printers, sewing machines and more. These tools are available to use during the library's open hours. Click here for more.
SMART board
One of our small meeting rooms is equipped with a SMART Board for use by small groups as a teaching, presentation or demonstration tool. Our board room also has a portable SMART Board available. Call (518) 439-9314, ext. 3009 for information on reserving these rooms.
Charging kiosk
Our charging kiosk provides free, secure charging for most mobile devices. The unit has 10 lockers, with eight sized for phones and two large enough for tablets.
Tech help
If you have questions about your new smart phone, tablet or eReader, library staff can help.
One-on-one assistance with:
Smart phones, tablets and eReaders
E-mail accounts
Microsoft Word, Excel and PowerPoint
Mac laptops
Adobe Premiere Elements for video editing
To make an appointment, fill out the form, stop at the information desk, or call 518-439-9314, ext. 3009.
Appointments last about an hour and must be made at least one week in advance. A follow-up appointment is available if needed.
Tech table
The following tools are conveniently located on a dedicated table near the public computers:
Large-format scanner
Large-format color printer
Adobe Photoshop Elements 9 photo editing program
Adobe Premiere 9 video editing program
Microsoft Office – Excel, PowerPoint and Word