The library has a number of ways to get books and other library materials into your hands, depending on the level of contact you are comfortable with.
Ready to return your items? Scroll down for information about how check-ins are being handled at this time.
Pop-Up Library on the Plaza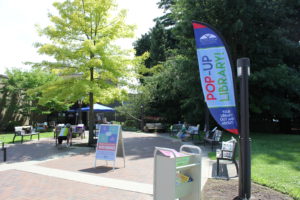 We know people do judge a book by its cover. It's part of what makes wandering among the shelves looking for something new to read so enjoyable. To replicate that experience, we're turning our library inside out and bringing you a pop-up browsing experience on our plaza (the entrance walkway off the parking lot).
At our Pop-Up Library, you'll find hot new releases and popular titles for kids, teens and adults. Drop by and find that awesome book you didn't know you needed until you saw it – weather permitting! Visit our online calendar for scheduled dates and hours.
Please observe the following rules:
Masks must be worn at all times.
One person or family per browsing area.
Practice social distancing and keep 6 feet apart.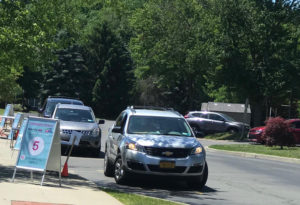 Curbside pickup
You can now request library materials for curbside pickup from 1-7 p.m. Monday-Thursday and 1-6 p.m. Friday. Click here for details.
In-person browsing
The library is now open for limited in-person browsing weekdays from 9:30 a.m.-12:30 p.m.
Click here for details.
Book Bundles
Still not sure what you feel like reading? Just fill out a Book Bundle request form, and our librarians will personally select 10 items for curbside pickup based on your preferences. Book Bundles are available for kids, teens and adults. Click here for details or to fill out a request form.
Returning your items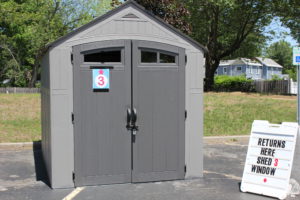 We are accepting returned materials 24/7 in the numbered dropoff sheds in our parking lot.
Please note:
Returned items are quarantined for four days and may take up to a week to show as checked in on your account so staffers can isolate and organize the materials.
Library of Things items can be returned during curbside pickup hours by pulling into one of the designated curbside spaces and alerting the library. 
The Board of Trustees has waived fines through November 1.
Still have questions? Give us a call at 518-439-9314 or email us.