Click here for Overdrive instructions.
The default loan period is two weeks, but you can change it by logging in to your Overdrive account and clicking "settings."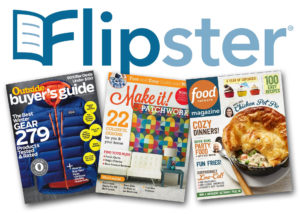 Flipster features dozens of popular titles, back issues and printing options. Magazines can be accessed online using computer and mobile devices or saved for offline viewing through an app compatible with most devices, including the Kindle Fire.
Additional Flipster resources: (pdfs)
Getting started • Frequently asked questions • Flipster app for iPad
Hundreds of movies and TV series are available to stream through Overdrive. Start streaming.
Borrow a pre-loaded Nook eBook or check out one of the library's ready-to load Kindles.
GVRL eBooks and reference materials, including test-prep resources, are available instantly from any Internet-connected device.
Other eResources
Other eBook resources
Free eBooks from Project Gutenberg. Over 33,000 eBooks available for iPad, Kindle, Nook, Sony Reader, iPhone and Android.
Google Books mobile
Open a web browser on your iPhone, iPad or Android phone and get access to free eBooks.
Need more help?
Call 439-9314 and press 2 OR ask a librarian.